History of Navarre Beach
The unincorporated community in the Florida Panhandle is considered a bedroom community, and permanent residents are largely military personnel along with retirees. The beach includes four flawless miles along the Gulf of Mexico and Gulf Islands National Seashore. Just 25 miles east of Pensacola, it's convenient to US Route 98 and State Road 87, making it a popular stop for those road-tripping through paradise.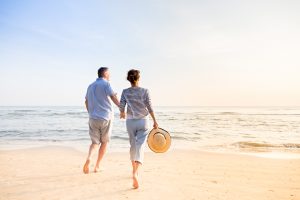 Navarre Beach is famous for its crystal clear swimming emerald waters. Picnics on the beach or in one of the parks are a popular pastime. There's an abundance of bike and jogging paths, and the untarnished beauty has long attracted visitors. Spanish explorers found the area in 1693 after sailing over from Veracruz, Mexico. The Pez-Siguenza Expedition included a gift exchange with Native Americans.
Early Days
Forty-one years before Navarre was officially named, a small community called Eagan was developed in 1884. It included just 40 families and included both Santa Rosa Sound and today's Navarre. The only known business was a local post office. Decades later, Colonel Guy Wyman founded Navarre after he fell in love with a French nurse during World War I. He wasn't allowed to bring his wife to the US at the time, but he could legally adopt her and bring her to Navarre as his "child." It was his wife Noelle that gave the name of "Navarre" to the large plot of land he purchased, after the Spanish province near France. Wyman plotted his land in 1925, but little development was made. The Great Depression forced them to sell, which was the beginning of Navarre as public land in the new century.
In more modern times, Navarre Beach's big claim to fame is Jaws 2. Many scenes were filmed in Navarre Beach circa 1977. Filming gave a fantastic boost to the economy, and a number of locals were extras.
What will you discover at the beach?